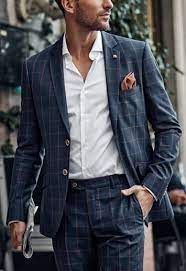 Elevate Your Style with Emensuits: Discount Men's Suits for Discriminating Tastes
Gentlemen, in the world of fashion, it's essential to find the perfect balance between quality and affordability. At Emensuits, we understand that you have a discriminating taste for style and craftsmanship without compromising your budget. That's why we are thrilled to introduce our collection of discount men's suits that cater to the most discerning fashion enthusiasts.
1. Uncompromising Quality: When it comes to men's suits, we believe that quality should never be compromised. Our discount suits are crafted with the utmost care and attention to detail, using premium materials and expert tailoring techniques. Rest assured that you'll be investing in suits that not only look fantastic but also stand the test of time.
2. Timeless Elegance: Emensuits' discounted collection features a range of classic and timeless designs that transcend fleeting trends. Whether you're looking for a timeless navy suit for business meetings or a dapper charcoal suit for a wedding, our selection has you covered.
3. Diverse Styles and Fits: We understand that every man is unique, and so are their preferences when it comes to suits. Our discount range offers various styles, fits, and colors to cater to a wide range of tastes and body types. From slim-fit to regular and everything in between, you'll find your perfect match at Emensuits.
4. Occasion-Friendly: Dressing appropriately for different occasions is a hallmark of a fashion-savvy gentleman. Our discount men's suits collection includes a versatile array of suits that effortlessly transition from formal events to casual gatherings. Whether it's a job interview or a night out with friends, Emensuits has the suit to suit every occasion.
5. Personalized Service: At Emensuits, we value our customers and are dedicated to providing an exceptional shopping experience. Our team of knowledgeable stylists is always ready to assist you in finding the ideal suit that aligns with your personal style and preferences.
6. Budget-Friendly Luxury: We believe that looking stylish and elegant should be accessible to everyone. Our discount men's suits offer the perfect blend of luxury and affordability, allowing you to dress to impress without breaking the bank.
7. Tailored to Perfection: A well-fitted suit can make all the difference in your appearance and confidence. Even with our discounted suits, we offer tailoring services to ensure that your suit fits you like a glove, enhancing your overall presentation.
8. Fashion for All Seasons: Los Angeles' diverse climate demands versatile wardrobe choices. Our discount suits collection includes options suitable for all seasons, from lightweight fabrics for warm summers to durable blends for cooler months.
At Emensuits, we take pride in presenting men's suits that exceed your expectations in quality, style, and value. Embrace your discriminating taste for fashion and elevate your style with our discount men's suits. Visit our Los Angeles store or explore our online collection to discover your perfect suit without compromising on your unique style and preferences.
Stay tuned for more fashion tips and updates right here on our blog. Happy shopping and dressing!