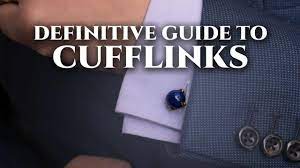 The Ultimate Guide to Cufflinks: Adding Personality to Your French Cuff Shirts
Cufflinks, the small but impactful accessories, play a significant role in the world of French cuff shirts. These tiny adornments hold the power to elevate your look, add a touch of personality, and make a lasting impression. Let's embark on a journey through the world of cufflinks and discover how to choose and wear them with flair.
Types of Cufflinks:
Classic Designs: These include bullet-back and whale-back cufflinks. They're easy to wear, making them suitable for those new to French cuff shirts.

Stylish Varieties: From chain link cufflinks to silk knot cufflinks, these options offer unique textures and styles that set you apart.

Personalized Cufflinks: Consider cufflinks engraved with initials, symbols, or even gemstones to infuse a personalized touch into your outfit.
Matching with Shirts and Ties (Continued):
Complement Patterns: Choose cufflinks that complement the patterns on your shirt or tie. For instance, if you're wearing a striped tie, consider cufflinks with a similar stripe pattern.

Contrasting Elements: Alternatively, you can opt for contrasting elements. Pairing a colorful and playful set of cufflinks with a more subdued outfit adds a touch of intrigue.
Occasion-Specific Choices:
Formal Affairs: For black-tie events or formal occasions, classic cufflinks like onyx or mother-of-pearl studs are timeless choices that exude sophistication.

Expressing Personality: If you're aiming to express your personality, go for novelty cufflinks that showcase your interests, hobbies, or even a sense of humor.

Metal Choices: Choose metals that match other accessories you're wearing, such as your watch or belt buckle. Silver and gold are versatile options that work well with various outfits.
Putting It All Together:
When it comes to wearing cufflinks, it's essential to strike a balance between your shirt, tie, and cufflinks. A rule of thumb is that your cufflinks should enhance your outfit without overwhelming it. A well-chosen pair of cufflinks can be a conversation starter, a reflection of your style, and a nod to the occasion you're attending.
As you delve into the world of cufflinks, don't hesitate to experiment. Over time, you'll develop an instinct for which cufflinks work best with different outfits. Whether you're aiming for understated elegance or a bold statement, cufflinks are your secret weapon for adding a personalized touch to your French cuff shirts.