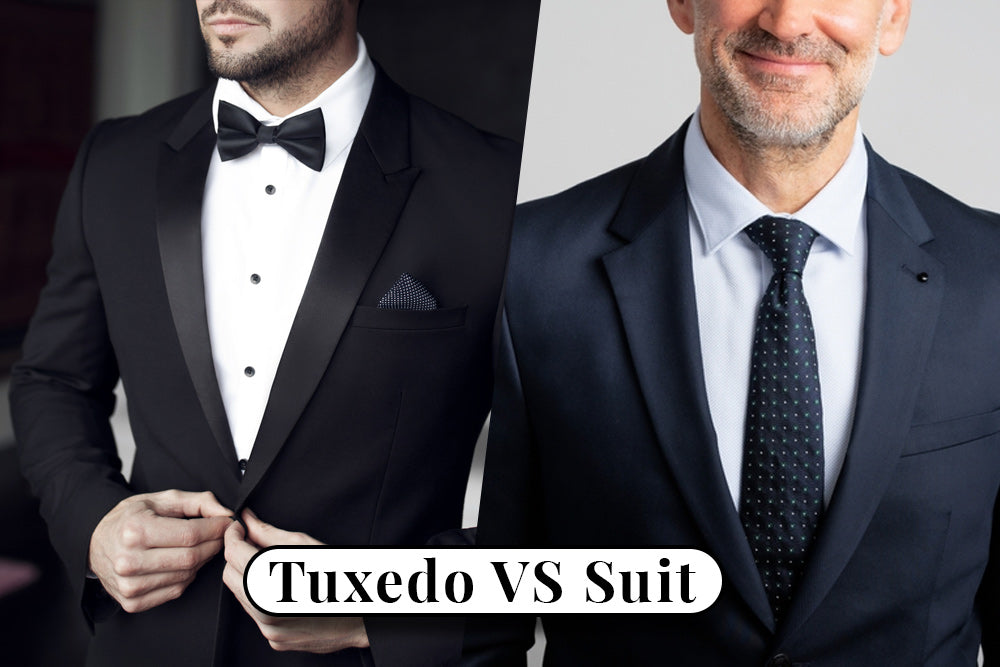 Tuxedo vs. Suit: What is the Difference Between a Tuxedo vs Suit
Wedding season is around the corner and it is associated with some formal dresses. When we talk about formal wear, two names come to mind: tuxedo and suit.
There's nothing wrong with What's the Difference Between a Tuxedo vs. Suit, you in case you don't understand from scratch what the distinction between suits and tuxedos is. Both are made up of jackets, and trousers and are worn with an elegant shirt and tie at the very event. 
Dressing to attend a wedding is the best time to ensure that you recognize which one is the right one.
What makes a tuxedo different from a suit? The constant question that is often asked by individuals navigating formal occasions is the distinction between a suit and a tuxedo. It's not just about choosing between two different sets of attire; it's about understanding the subtle nuances that contribute to the unique elegance of each.
Here we will discuss complete details about Tuxedo vs Suit.
What's the Difference Between Tuxedo and Suit
The Fundamental Difference
Satin Accents
Satin is a shiny fabric that sets the two apart. A tuxedo, in its distinguished glory, boasts satin on the lapel of the jacket and a satin lining on the side of the trousers. This subtle yet significant detail immediately elevates the tuxedo to a level of sophistication. Moreover, the jacket of a tuxedo is adorned with cloth-covered, typically satin, buttons, adding to its refined appearance.
Contrastingly, a suit exudes a more casual vibe due to the absence of satin accents. The suit is crafted from the same material throughout, and its buttons are often acrylic or left uncovered. While the suit may lack the inherent opulence of a tuxedo, it provides a versatile canvas for creative accessorizing, making it an excellent choice for those who wish to infuse their style into their formal ensemble.
Accessories
The once-rigid rules governing accessories for suits and tuxedos have undergone a metamorphosis, allowing for a more liberal approach to styling. Traditionally, tuxedos demanded a pleated shirt with a black bow tie, accompanied by traditional studs and cufflinks. However, contemporary fashion embraces versatility and encourages personal expression.
For a tuxedo, accessories should align with the elegance of the ensemble. A bow tie is a timeless choice, adding a touch of refinement. Alternatively, for those averse to bow ties, a tie with a satin finish seamlessly complements the lapel of the jacket. Studs and cufflinks become instrumental in elevating the entire look, effortlessly adding a dash of sophistication. Belts, however, are a strict no-no when donning a tuxedo.
On the suit front, accessory choices are expansive. Mix-and-match trends are gaining popularity, allowing grooms and groomsmen to experiment with different vests, ties, and suspenders. The freedom to choose neckwear opens the door to creative expression, making it easier to align with wedding themes or personal styles.
Footwear
When it comes to shoes, the rules are relatively lenient but not without their considerations. Tuxedos often pair well with patent-leather or shiny shoes, harmonizing with the glossy lapel and trousers. However, for those averse to excessive shine, opting for a fancier leather shoe is a sophisticated alternative.
Suits, on the other hand, demand a careful selection of shoes. It's imperative to avoid footwear that appears more luxurious than the material of the pants, as this can lead to a clash in styles. The key is to maintain cohesion within the bridal party's look while allowing the groom to stand out subtly.
Socks as Statement Pieces
In the world of formalwear, even the smallest details matter. Socks, often overlooked, can serve as an opportunity to inject personal flair. Whether it's a pop of color, a quirky pattern, or a subtle nod to individuality, interesting socks can make a statement, especially when striking a pose for the camera.
Styling a Tuxedo the Classic Way
For black-tie events, adhering to the traditional dress code is often the safest choice. A white dress shirt, preferably with pleats, and a classic collar is the quintessential companion to a tuxedo.
Accompanied by a bow tie, preferably black but open to personal flair, and cufflinks for double cuffs, this classic ensemble is completed with a white pocket square and polished dress shoes in matte or patent leather.
Personalizing Black Tie
Following dress codes is crucial for certain events, there's room for personal expression within formal wear. Experimenting with jewel-toned jackets or opting for a white dinner jacket over a black shirt can infuse a unique touch without compromising on sophistication.
For those leaning towards a more relaxed style, a fine woolen roll neck can offer a refined yet comfortable alternative to the traditional shirt and bow tie combination.
Final words
In the eternal debate of suit versus tuxedo, the choice ultimately boils down to personal style, the formality of the occasion, and the level of sophistication one wishes to exude. Understanding the distinctions between these two classic ensembles allows individuals to navigate the world of formalwear with confidence and flair. 
So, the next time you're faced with the dilemma of what to wear for a black-tie event, wedding, interview, or any formal affair, armed with this knowledge, you can step into the world of fashion with poise and elegance.
Faqs 
Does black tie mean tuxedo?
Yes, typically, "black tie" dress code implies wearing a tuxedo. It is a formal style requiring specific attire, and a tuxedo is the standard choice for such occasions.
Can you wear a tuxedo as a suit?
As we know a tuxedo and a suit share similarities, they are distinct. Wearing a tuxedo as a suit might not adhere to formal standards, as tuxedos often feature satin detailing and unique lapels. It's advisable to choose the appropriate attire based on the event's dress code.
Is a suit and a tuxedo the same?
No, a suit and a tuxedo are not the same. The key differences lie in details like satin accents, lapel styles, and formality. Tuxedos are generally more formal, with unique features like satin lapels, while suits are versatile and can be worn in various settings.
In the world of formal wear, the classic black tuxedo has long reigned supreme. However, for those who seek to make a bold statement and embrace a unique sense of style, the white tuxedo is a disti...
Read more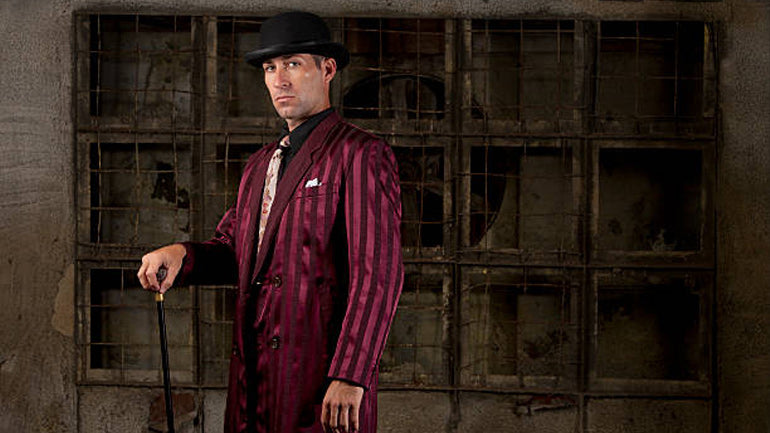 Complete Guide on What is a Zoot Suit?
Fashion trends have often changed through various cultural influences, starting at the top and gradually making their way down to the masses. The zoot suit, however, represents a departure from thi...
Read more