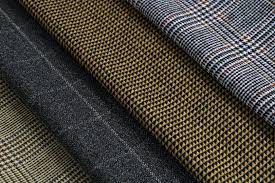 Demystifying Suit Fabrics: Your Guide to Choosing the Perfect Suit, Continued
Welcome back, gentlemen, to the second part of our guide on suit fabrics. In our previous blog, we covered some classic fabrics, and today, we'll explore more options to help you make informed decisions when selecting the perfect suit. At Emensuits, we believe that the right fabric can elevate your style and enhance your comfort. Let's continue our journey through the world of suit fabrics.
1. Wool Blend: Versatility is the name of the game when it comes to wool blend fabrics. These fabrics combine wool with other materials like polyester, silk, or cashmere, offering a balance of durability, breathability, and luxury. A wool blend suit is an excellent choice for year-round wear, making it a wardrobe staple.
2. Linen: Embrace the laid-back charm of linen suits, perfect for warm weather and casual events. Linen is a lightweight and breathable fabric, ideal for sunny days. Although it wrinkles easily, it adds a relaxed, effortless appeal to your outfit.
3. Seersucker: A true summer favorite, seersucker fabric is recognizable by its puckered texture, which enhances airflow and keeps you cool. This cotton-based fabric is often striped or checkered, giving your suit a distinctive and playful touch.
4. Velvet: When it's time to make a bold statement, velvet suits take the spotlight. The plush texture of velvet adds a touch of luxury and opulence to your attire, making it suitable for formal events or stylish evenings.
5. Mohair: Mohair is a fabric made from the hair of Angora goats, known for its lustrous sheen and lightweight feel. Mohair suits exude elegance and sophistication, making them a top choice for special occasions and evening wear.
6. Corduroy: Corduroy suits offer a rich texture and a touch of vintage charm. These suits are often seen in colder seasons due to their thicker composition. Opt for corduroy when you want to showcase a unique, retro-inspired style.
7. Flannel: For the colder months, flannel suits provide excellent warmth and a cozy feel. This woolen fabric features a soft nap and is ideal for creating a polished winter look.
8. Tweed: No list of suit fabrics is complete without mentioning tweed. This iconic, rugged fabric is ideal for autumn and winter, offering excellent insulation and a distinctive, timeless appeal. Embrace the charm of the countryside with a well-tailored tweed suit.
Remember, the fabric you choose can significantly impact the overall look and feel of your suit. Whether you prefer the elegance of wool, the breeziness of linen, or the plushness of velvet, Emensuits has a wide range of fabrics to cater to your individual style and comfort needs. Our expert stylists are always ready to guide you through the fabric selection process to help you find the perfect suit for any occasion.
Stay tuned for more fashion tips and updates right here on our blog. Happy suit shopping!