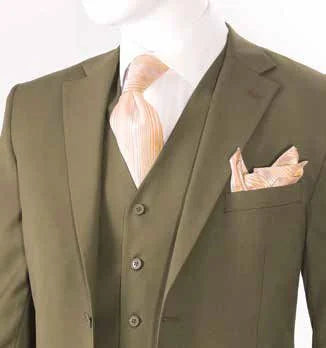 Discover Designer Italian Styles: Elevate Your Wardrobe with Vittorio St. Angelo
Introduction: If you're seeking the epitome of luxury and sophistication in men's fashion, look no further than Vittorio St. Angelo. Renowned for its exquisite Italian designs, Vittorio St. Angelo brings a touch of Italian charm and craftsmanship to the modern gentleman's wardrobe. In this blog, we invite you to delve into the world of designer Italian styles and discover how Vittorio St. Angelo can elevate your fashion game to unparalleled heights.
A Heritage of Elegance: Vittorio St. Angelo boasts a rich heritage of timeless elegance that spans generations. Rooted in Italy's esteemed sartorial tradition, each garment is meticulously crafted with utmost attention to detail, resulting in a flawless fusion of classic style and contemporary fashion.

Luxurious Fabrics and Tailoring: Italian fashion is synonymous with premium fabrics and masterful tailoring, and Vittorio St. Angelo embodies this essence flawlessly. Expect to find sumptuous materials like fine Italian wool, luxurious silk, and high-quality cotton, expertly woven into sophisticated designs that celebrate both comfort and style.

Exquisite Suiting for Every Occasion: Whether it's a black-tie gala, a formal business event, or a wedding celebration, Vittorio St. Angelo offers a stunning array of suits to suit every occasion. From sleek and modern slim fit suits to timeless and refined classic cuts, each design emanates an air of refined confidence that is quintessentially Italian.

Distinctive Details and Finishing: In true Italian fashion, Vittorio St. Angelo pays meticulous attention to the finishing touches that elevate their designs to works of art. From hand-stitched lapels to intricate patterns and textures, each piece embodies a distinctive flair that sets it apart from the rest.

Versatility and Contemporary Style: Vittorio St. Angelo's collections embrace versatility, allowing you to seamlessly transition from formal to casual settings without compromising on style. Pair a luxurious blazer with tailored trousers for a polished business-casual look, or dress down a suit with a tasteful knit polo for an effortlessly suave appearance.

Embrace the Italian Aesthetic: Immerse yourself in the essence of Italian fashion with Vittorio St. Angelo. Experience the allure of impeccable tailoring, opulent fabrics, and sophisticated designs that celebrate the art of dressing with an Italian touch.
Conclusion: Embrace the world of designer Italian styles with Vittorio St. Angelo and elevate your wardrobe to new heights of luxury and sophistication. With a heritage of elegance, luxurious fabrics, and meticulous tailoring, Vittorio St. Angelo's designs capture the essence of Italian charm and contemporary fashion. Whether you're attending a formal event or seeking refined casualwear, Vittorio St. Angelo offers a stunning range of options to suit every occasion and personal style. Discover the magic of Italian fashion and indulge in the timeless allure of Vittorio St. Angelo. Happy shopping!