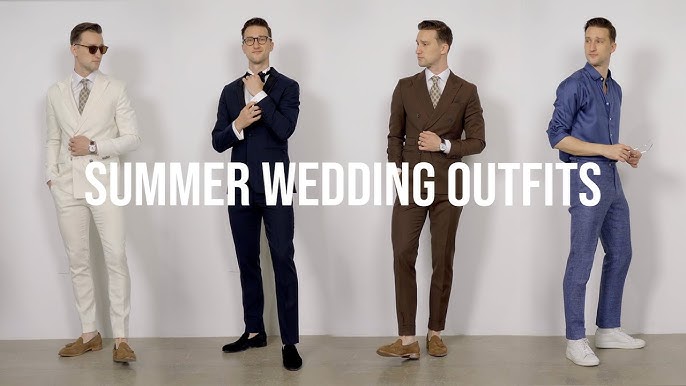 Unveiling Summer Wedding Style: Elevate Your Look with EmenSuits
As the sun shines brightly and love fills the air, summer weddings present the perfect opportunity to showcase your impeccable style while celebrating the union of two souls. At EmenSuits, we understand the significance of dressing to impress for such joyous occasions. In this guide, we reveal the secrets to mastering summer wedding style for men, ensuring you radiate charm and sophistication throughout the event.
Embrace Light and Breathable Fabrics: Summer weddings often entail warm weather, making light and breathable fabrics essential for staying comfortable and looking suave. Opt for suits crafted from linen, cotton, or seersucker to keep cool while exuding an air of effortless elegance.

Pastel and Vibrant Colors: Embrace the vibrant spirit of summer by incorporating pastel and vivid colors into your ensemble. Soft pinks, mint greens, sky blues, and even brighter hues can add a refreshing touch to your look, perfectly complementing the season's vibrant ambiance.

The Classic Light-Colored Suit: A classic light-colored suit is a quintessential choice for a summer wedding. Consider shades like light gray, beige, or soft blue to embrace the relaxed yet polished vibe of the season. EmenSuits offers a wide range of light-colored suits that cater to your preferences.

Casual Yet Refined Attire: For a more casual summer wedding, explore the option of tailored blazers paired with dress pants. This combination exudes sophistication while allowing you to adapt to the event's dress code comfortably. Elevate the look with a stylish dress shirt and smart accessories.

Dapper Dress Shirts and Ties: Complete your summer wedding ensemble with a dapper dress shirt in a lightweight fabric. Opt for breathable materials like cotton or linen to stay cool under the summer sun. Complement the look with a tasteful tie or bowtie that complements your suit's color palette.

Comfortable Footwear: While style is essential, comfort should not be compromised, especially during a long day of celebration. Select comfortable and stylish footwear like loafers or lightweight dress shoes to ensure you're at ease while dancing the night away.

Sun Protection and Accessories: Accessorize thoughtfully with sunglasses, a stylish hat, and sunscreen to shield yourself from the sun's rays during any outdoor ceremonies or photo sessions. Additionally, consider a pocket square or a boutonniere to add a personalized touch to your outfit.
Conclusion: Summer weddings call for a harmonious blend of style and comfort, and EmenSuits has you covered. Embrace light and breathable fabrics, explore a palette of pastel and vibrant colors, and opt for classic light-colored suits or refined blazer ensembles to make a lasting impression. Add a touch of dapper elegance with well-fitted dress shirts, ties, and tasteful accessories. Remember to prioritize comfort while staying stylish during the warm celebration. At EmenSuits, we provide a diverse range of men's clothing options to ensure you look your best and exude confidence throughout any summer wedding. Happy styling and warmest wishes for the joyful occasion!