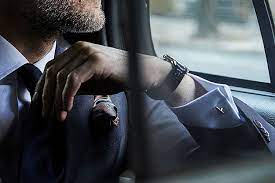 French Cuff Shirts: A Symbol of Attention to Detail
In a world where every detail matters, French cuff shirts stand as a testament to the value of impeccable craftsmanship and attention to detail. These shirts not only demand precision in their design but also require careful consideration when styling them. Let's explore how French cuff shirts become a symbol of meticulous attention to detail.
Tailoring Excellence: French cuff shirts are often tailored to perfection. The fit, drape, and fabric quality are meticulously considered to ensure the shirt looks and feels impeccable.
Cufflink Coordination: The act of selecting cufflinks isn't just about style; it's about harmony. The design, color, and material of the cufflinks should align seamlessly with the overall outfit.
Shirt and Tie Cohesion: French cuff shirts create an opportunity to showcase the cohesion between the shirt, tie, and cufflinks. A well-coordinated ensemble demonstrates an eye for detail.
Cuff Folding Precision: The proper folding of French cuffs is an art in itself. The edges need to align precisely, creating a symmetrical and polished appearance.
Wardrobe Integration: Incorporating French cuff shirts into your wardrobe requires forethought. It's about choosing the right occasions, pairing them with suitable ties, and even selecting the appropriate pants and shoes.
Wearing a French cuff shirt isn't just about donning an outfit; it's about embodying a philosophy of thoughtful dressing. It's an acknowledgment that every choice, from the fabric to the cufflinks, contributes to an ensemble that exudes refinement and an appreciation for the finer things in life.