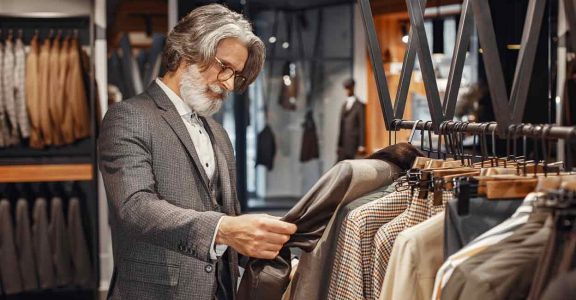 What Are the Must-Have Wardrobe Essentials for Men?
When it comes to curating a stylish and versatile wardrobe, men often wonder where to begin. With fashion trends evolving and personal styles varying, it's important to have a foundation of classic essentials that can be mixed and matched for any occasion. So, what are the must-have wardrobe essentials for men? Let's dive in!
1. Crisp White Shirt: A well-fitted white dress shirt is a true staple. It can be dressed up with a blazer for formal events or paired with jeans for a more casual look. Its timeless appeal and versatility make it a cornerstone of any wardrobe.
2. Dark Denim Jeans: A pair of dark wash jeans is incredibly versatile. They can be worn with a button-up shirt and dress shoes for a semi-formal look or teamed up with a t-shirt and sneakers for a relaxed vibe.
3. Tailored Suit: Every man should have at least one well-tailored suit in his collection. Whether it's for business meetings, weddings, or other formal events, a suit exudes confidence and class.
4. V-Neck Sweater: A v-neck sweater adds sophistication to both casual and smart-casual outfits. It can be layered over a shirt or worn on its own, making it perfect for transitional weather.
5. Classic Watch: A quality timepiece is more than just an accessory; it's a statement. A classic watch complements any outfit and demonstrates an attention to detail.
6. Casual T-Shirts: Stock up on a variety of high-quality t-shirts in neutral colors. These can be worn alone or layered under shirts, jackets, or sweaters.
7. Versatile Shoes: A pair of well-made leather shoes, such as loafers or brogues, are essential. They work well with suits, jeans, and everything in between.
8. Leather Belt: A good leather belt not only holds your pants up but also ties your outfit together. Opt for a belt that matches your shoe color for a polished look.
9. Neutral Chinos: Chinos are a great alternative to jeans. They're comfortable and can be dressed up or down depending on the occasion.
10. Sporty Sneakers: For a casual and sporty vibe, invest in a pair of clean, stylish sneakers. They're perfect for weekend outings and activities.
11. Outerwear Jacket: Depending on your climate, a versatile outerwear piece like a bomber jacket or a trench coat can complete your look while providing functionality.
12. Sunglasses: Protect your eyes while adding a touch of coolness to your outfit with a pair of classic sunglasses that suit your face shape.
13. Dress Shoes: Alongside casual shoes, having a pair of formal dress shoes is crucial. Oxfords or derbies are ideal choices to complement suits and dressier occasions.
14. Sweater: A lightweight sweater is perfect for layering during colder months or for adding texture and depth to your ensemble.
15. Backpack or Briefcase: Complete your look with a stylish bag, whether it's a backpack for a more casual feel or a sleek briefcase for a professional touch.
Remember, building a versatile wardrobe doesn't mean you have to break the bank. Invest in high-quality, timeless pieces that align with your personal style and can be mixed and matched in various ways. With these wardrobe essentials, you'll be prepared for any event or outing that comes your way, all while looking effortlessly stylish.