What Are the Key Elements of Smart Men's Dressing?
Dressing smart isn't just about wearing a suit and tie; it's about mastering the art of combining style and sophistication for various occasions. If you've ever wondered how to achieve that sharp, put-together look, you're in for a treat. In this post, we'll delve into the key elements of smart men's dressing, helping you refine your style and make a lasting impression.
1. Tailored Fit is King: The foundation of a smart outfit lies in its fit. Whether it's a suit, blazer, or trousers, make sure they're tailored to your body. A well-fitted garment instantly exudes elegance and confidence.
2. Start with the Basics: Build your wardrobe around timeless basics like crisp white shirts, well-fitting dark trousers, and quality leather shoes. These versatile pieces form the backbone of smart dressing.
3. Choose Quality Fabrics: Opt for high-quality fabrics that not only look good but also feel great. Fabrics like wool, cotton, and silk bring a touch of luxury to your ensemble.
4. Master the Art of Layering: Layering adds depth and sophistication to your look. Experiment with combinations of shirts, sweaters, blazers, and overcoats to create visually interesting outfits.
5. Attention to Accessories: Accessories can make or break a smart outfit. Invest in quality leather belts, classic ties, pocket squares, and understated watches to add refined details.
6. The Power of Neutrals: Neutral colors such as navy, gray, black, and white are the building blocks of a smart wardrobe. They're easy to mix and match and lend themselves well to a polished appearance.
7. Embrace Patterns Wisely: Incorporate subtle patterns like pinstripes, checks, and houndstooth for a sophisticated touch. Just remember, moderation is key.
8. Mind Your Footwear: Your shoes can speak volumes about your attention to detail. Invest in well-crafted leather shoes that complement your outfit, whether it's a formal lace-up or a sleek loafer.
9. Grooming Matters: A well-groomed appearance is essential for smart dressing. Keep your hair, beard, and nails well-maintained to complete your look.
10. Confidence Is the Final Touch: The ultimate key to smart dressing is confidence. When you feel comfortable and confident in your outfit, it radiates in your demeanor.
11. Adapt to the Occasion: Smart dressing doesn't mean wearing the same thing every day. Adapt your style to the occasion, whether it's a formal event, business meeting, or casual dinner.
12. Pay Attention to Details: Little details like ironing your clothes, using collar stays, and tucking in your shirt can elevate your appearance from good to exceptional.
13. Stay Updated: Keep an eye on evolving fashion trends while staying true to your personal style. Incorporating modern elements into classic outfits can keep your look fresh and relevant.
14. Confidence Is the Final Touch: The ultimate key to smart dressing is confidence. When you feel comfortable and confident in your outfit, it radiates in your demeanor.
Smart dressing is an art that can be perfected over time. By following these key elements and allowing your personal style to shine through, you'll undoubtedly master the art of dressing smartly and leave a lasting impression wherever you go.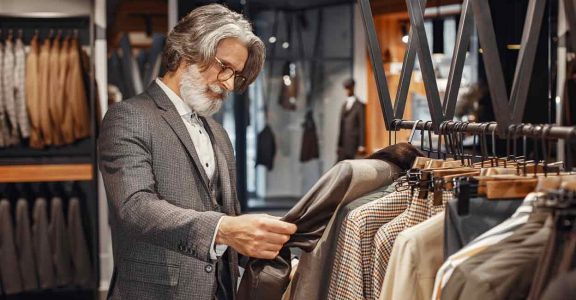 "How Can Men Elevate Their Casual Style?
Casual doesn't have to mean sloppy. Elevating your casual style is all about striking a balance between comfort and sophistication. If you're looking to up your casual fashion game, you've come to...
Read more