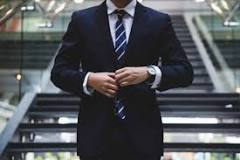 Easter Elegance: Men's Fashion Tips by EmenSuits
Easter is a time of renewal and celebration, and what better way to embrace the spirit of the season than with a stylish and sophisticated outfit? As a leading purveyor of men's clothing, EmenSuits is here to help you dress to impress for Easter gatherings, whether it's a family brunch or a church service. In this blog, we'll share some fashionable tips to ensure you look your best while embracing the joyous atmosphere of this special occasion.
Pastel Palette: Easter is synonymous with soft, pastel colors that symbolize the blossoming of spring. Embrace this theme by incorporating pastel shades into your outfit. Think light pinks, soft blues, mint greens, and gentle yellows. Our extensive collection of suits, shirts, and accessories at EmenSuits offers an array of pastel options for you to choose from.

The Classic Suit with a Twist: A well-fitted suit is always a reliable choice for a polished Easter look. Opt for a light-colored suit in pastel hues or traditional neutrals like light gray or beige. To add a touch of sophistication, consider a textured fabric such as linen or seersucker. EmenSuits provides a variety of suit styles to cater to your personal preferences.

Dress Shirts in Delicate Patterns: Easter is the perfect occasion to showcase your sartorial flair with subtle patterned dress shirts. Stripes, checks, or subtle floral designs can add a charming touch to your outfit without being too overwhelming. Pair a patterned dress shirt with a solid suit for a well-balanced ensemble.

Accessorize with Elegance: Complete your Easter outfit with carefully chosen accessories. A pastel-colored tie or bowtie can add a pop of color to a neutral suit, while a pocket square in a complementary shade can elevate your overall look. Don't forget a classic belt and polished dress shoes to complete the ensemble.

Light Layers for Versatility: Spring weather can be unpredictable, so consider incorporating light layers into your outfit. A lightweight blazer or cardigan in a coordinating color can keep you warm during cooler moments while still maintaining a refined appearance.

Attention to Grooming: Looking your best on Easter also means paying attention to grooming. Consider getting a fresh haircut or styling your facial hair neatly to enhance your overall appearance.
Conclusion: This Easter, make a lasting impression with your impeccable sense of style and elegance. EmenSuits offers a diverse range of men's clothing and accessories to help you curate the perfect Easter outfit. Embrace the joyous spirit of the season by incorporating pastel colors, donning a classic suit with a twist, and accessorizing with finesse. Remember to pay attention to the finer details, and you'll undoubtedly be the best-dressed gentleman at any Easter celebration. Happy Easter and happy shopping from EmenSuits!