What does a Tuxedo Suit Consist of?
The tuxedo, often referred to as the epitome of men's formalwear, exudes elegance and sophistication. Whether you're preparing for a black-tie event, a wedding, or any formal occasion, understanding the components of a tuxedo is crucial.
In this blog, we will dissect the elements of a tuxedo men's suit and guide you through the essentials of this timeless attire.
The Jacket
The tuxedo jacket is the centerpiece of this classic ensemble. Here's what you should know about it:
Lapel Style: Tuxedo jackets typically feature a shawl collar, peaked lapel, or a notch lapel. The choice largely depends on personal preference, but a shawl collar or peaked lapel is considered more formal.
Fabric: Tuxedo jackets are often made from luxurious fabrics like wool, silk, or satin. Black is the most traditional color, but midnight blue is also a popular choice.
Buttons: A tuxedo jacket usually has one or two buttons, and they are covered in satin for a subtle contrast.
Pockets: Tuxedo jackets typically have flap pockets or jetted pockets. Flap pockets are more common and versatile, while jetted pockets are sleek and formal.
The Shirt
Your tuxedo shirt should be as refined as the jacket:
Material: Opt for a white dress shirt in cotton or a cotton-blend fabric for a crisp and clean look.
Collar: Wingtip collars are the go-to choice for tuxedo shirts. They add a touch of formality to the ensemble.
Front: Tuxedo shirts can have a plain front or a pleated front. The pleated front is more traditional, while a plain front offers a modern touch.
Cuffs: French cuffs are a must for tuxedo shirts, allowing you to accessorize with elegant cufflinks.
The Bowtie
The bowtie is a quintessential accessory for a tuxedo:
Material: Opt for a silk or satin bowtie that matches the color of your jacket's lapels.
Style: Pre-tied and self-tie bowties are both acceptable. However, tying your bowtie adds a personal touch to your ensemble.
The Trousers
Tuxedo trousers complete the lower half of the outfit:
Material: Tuxedo trousers are typically made from the same fabric as the jacket, with a satin stripe running down the sides.
Fit: They should be tailored to fit well and can feature pleats or a flat front, depending on your preference.
Suspenders or Belt: Traditionally, tuxedo trousers are worn with suspenders, but a black belt is also acceptable.
The Footwear
Complete your look with the right pair of shoes:
Style: Black patent leather shoes are the perfect choice for a tuxedo. They have a glossy finish that complements the formality of the ensemble.
Laces: Opt for oxfords or derby shoes with closed lacing for a polished look.
Conclusion
A tuxedo suit is the pinnacle of formal attire, symbolizing elegance and refinement. Now that you are well-versed in the essential components of a tuxedo, you can confidently prepare for any formal event.
Remember, the key to a stunning tuxedo look is in the details, so choose each element with care to ensure you stand out at your next black-tie affair.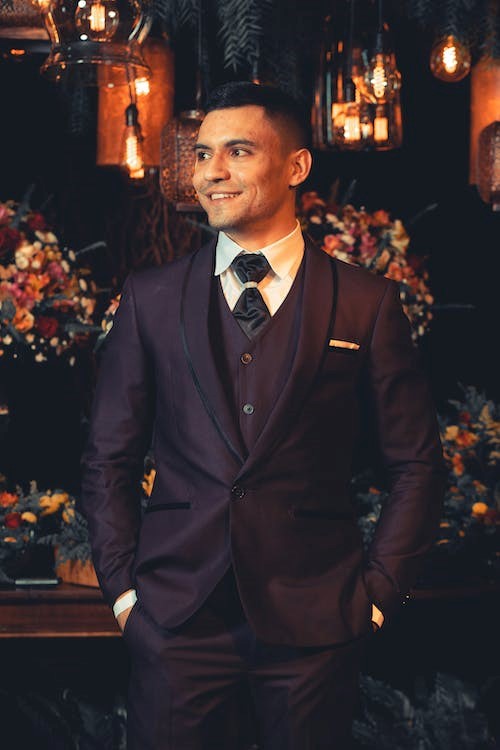 A tuxedo is more than just a piece of clothing; it is a symbol of timeless elegance and sophistication. Whether you are getting ready for a black-tie event, a wedding, or a special occasion, the c...
Read more
When Should a Man Wear a Tuxedo?
Tuxedos have long been a symbol of elegance and sophistication in men's fashion. However, there's often confusion surrounding when it is appropriate to wear a tuxedo. Should you reserve it only fo...
Read more